What We Bring To The Field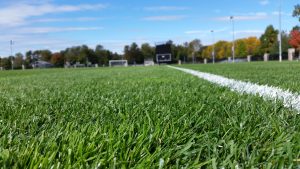 Championship Turf Services is Southern New England's leading athletic field contractor. With over 75 years of combined experience in the sports turf and golf industries, our team of agronomists and turf managers brings field-tested expertise and a passion for quality to every project, whether your organization is at the pee wee or professional level. Our inventory of specialized equipment, second to none, enables us to build and nurture ballfields to exacting standards, while our attention to local soil conditions and healthy root zone development translates into sports turf that performs over the long term.
From simple repairs and customized maintenance programs to multi-field construction and renovation projects, Championship Turf Services will give your athletes solid grounds for achievement and help your athletic program meet — or exceed — its facility goals.
Learn more about our services and visit our project gallery in the pages that follow. Thank you for your interest in Championship Turf Services!
– Michael Flowers, CSFM
President, Championship Turf Services

Championship Turf Services is a member of:
Sports Turf Managers Association
New England Sports Turf Managers Association
Connecticut Parks Association
New England Parks Association
Connecticut Association of Golf Course Superintendents
Connecticut Environmental Council
New York State Turf Grass Association